The Day We Made The Red Cross Cross
Over 600 Cub Scouts from Hertfordshire, and also Cub Scouts from Buckinghamshire and Oxfordshire, participated in the Cub County Carnival Camp which ran from Friday 2 May until Monday 5 May 2003 at Phasels Wood, Kings Langley in Hertfordshire UK.
Jane the Facepainter from CIRCUS UNLIMITED! was there too on the Saturday. The theme was "Carnival" so Jane had made sure she had a range of carnival faces ready. But the Cub Scouts were not interested in carnival faces….after they had seen the horrific injuries that Jane produces with special make-up.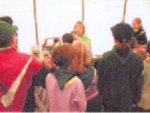 It wasn't long before there were lots of Cub Scouts walking around with seemingly the most appalling injuries to heads, arms and legs. No one was really hurt of course. Using stage blood, special fx wax and other secret ingredients, Jane was creating injury after injury and the customers were loving it!
Around a third of the way through her four hour stint, Jane was approached by someone in Red Cross uniform.
"Oh! YOU'RE to blame!"
"I'm sorry?" replied Jane.
"We've just had a young boy come into the first aid tent with a terrible head injury. We examined the wound and began to write out an accident report. It took us five minutes….but then we realised the injury wasn't real! So we left the junior members of our team to attend to the "patient" and withdrew. Five minutes later, as they were cleaning the wound, they realised too….but only when the injury fell off! It was one of the best training exercises I've ever seen!"
Later a boy came up to Jane.
"Those Red Cross people cleaned off my scar. Can I have another?"
One of the Scout leaders saw Jane at the end.
"Do you realise the chaos you've caused out there? It was great! I hope you can come back next year too!"
So….it's official: Even the Red Cross are fooled
by our Facepainter's Special FX Injuries!
But seriously: Over 13,000 people die each year in accidents occurring in everyday situations, such as in the home or workplace or on the roads. Many of these deaths could be prevented if a trained first aider was on hand. The British Red Cross is one of the UK's leading providers of first aid training and support. They train over one hundred thousand first aiders every year, preparing them to cope with emergencies at work, in the home or in the event of a major incident. They also provide first aid teams for public events both large and small. If you would like to find out about training or how to support the Red Cross, visit their website:
http://www.redcross.org.uk