Suddenly Legless (by Pepe the Clown)
I always knew….it HAD to happen one day. I'm surprised that it hasn't happened before. I know it's happened to other people. It happened to me in Sheffield, thankfully on grass. A beautiful sunny day too.
I shouldn't really have been doing it to start with. I was only showing off. If I hadn't done it at all, no one would have noticed….because no one was expecting me to be doing it in the first place.
It happened so fast that the other guy didn't have time to turn around, let alone see it happen. He knew it had happened though because there's a very unique sound produced at the time.
As it started, I realised that there was nothing I could do. Nothing. I was powerless to change what would happen in the next 5 seconds. I could only take part.
It could have been worse. Much worse. For me certainly. For those round about me probably. It could have been….so much worse. 150 miles from home.
I have been doing this for over ten years. I have done it in all kinds of places for all kinds of people to see at all kinds of events. But it had never gone wrong until this day.
At around 3pm on a Friday afternoon in Sheffield, I went down….hard. With Durastilts strapped to my legs and as someone grabbed me for support at a open-air Circus Skills Workshop, I fell. 9 feet high to zero feet in a instant. Luckily I wasn't hurt. Neither was anyone else.
I always knew….it HAD to happen one day!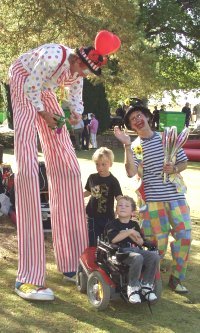 The photo shows Pepe the Clown (almost upright) and "the other guy", Julian the Juggler.